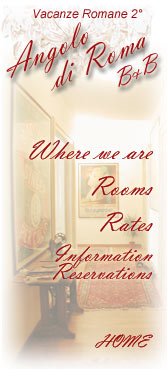 Angolo di Roma Bed & Breakfast
is situated in a very central area. Infact, it allows you to easily reach tourist attractions by foot.
For example, the Colloseum, the Roman Forum, the Basilica of Saint John in Laterano, and the Basilica of Saint Maria Maggiore.
Connected with numerous modes of surface transportation as well as the metro station (metro stop is 100mt away). It offers you the opportunity to reach the Spanish Steps in 5mins, Saint Peter's Square in 10mins, and any site in the city in 20mins.


See Map

Thanks to it's central location, reaching "Angolo di Roma B&B" is very simple, whether you are travelling by train, car, or arriving by airplane.
Take lines 87, 85, 30 and get off at the "Manzoni" stop. If getting off the bus or tram, follow the signs for "Via Cairoli". We are at N. 31, 100 m away.
---
" Vacanze Romane " Angolo di Roma Bed and Breafast a Roma- Via Carlo Alberto, 26
" Vacanze Romane 2° " Angolo di Roma Bed and Breafast in Rome - Via Cairoli, 31
by Gianluca Cittadini - Phone-Fax +39 (0) 6 444 1079 Mobile for Italy+39 347 7644728
Mobile for other Countries+39 339 4490432 / +39 334 9535950
e-mail:info@rome-bedandbreakfast.com
Ispected and approved by 'APT - Azienda Promozione Turismo
© 2002 - 2004 - Tutti i diritti riservati